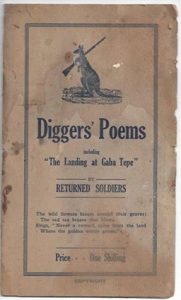 Rev. Ken Box's great uncle was an ANZAC of World War 1 who was provided with a book of poems written by returning and returned soldiers. These six little known poems are reproduced in this book and represent a "window" into the thinking, emotions, and feelings of the returning ANZACs.
Ken Box notes this little book was found in an old tin trunk of his great uncle's that was left in his machinery shed after his aunt died.
He states, "The trunk had remained unopened for at least 80 years until curiosity got the better of me and I picked the lock. My great uncle was the man who brought home the machine gun he captured in the action detailed below. He never spoke about the war but service records show that he was shot and wounded on three occasions. I knew him as a generous and loving bushman and farmer so it's difficult to imagine the courage these men showed."
"During operations east of Proyart from Aug. 25/26, 1918 SGT Box showed great coolness and skill in leading his platoon, his men were being shelled heavily and were disorganised. SGT Box immediately re-organised them and led them with great skill and dash to their objectives and consolidated. There was a trench to the right of SGT Box occupied by the enemy. Seeing that his flank was threatened he rushed the trench alone and bombed the enemy taking 11 prisoners."
These six poems may not be of significant literary value, nor may the poems compare with those from the recognised War Poets, such as Siegfried Sassoon or Rupert Brooke. They do represent, however, the voice of the "ordinary" Australian soldier, and are included here for that reason. They were written during or shortly after the conflict had ended and provide a haunting insight into men coming to terms with the situations in which they found themselves. As such, they are part of an important social history archive.
The poems speak of the Australian self-identity, of Australia's contribution to the war, of mateship and companionship, of grief for the loss of companions, of courage and resilience, and of a hope for a better future.
ANZACS
What means these great white ships at sea
Ploughing their Eastward track
Bearing their mangled human freight
Bringing the spent men back?
They mean that Australia has been there:
They mean she has played the game,
And her wonderful sons have won their share
Of everlasting fame.
Battered and worn and war-scarred –
Those who had left their land
Strong in their glowing manhood,
By England to take their stand.
Those who had sailed when the war-cloud burst
Out on a distant foam
To the tune of "Australia will be there" –
Thus they are coming home!
What means these absent numbers,
The gaps in the stricken line?
You will find the graves which tell you
On the trail by Lonesome pine
On the slope of Aki Baba
On  Kaja Chemen's brow
They died the death of heroes
As Australia's sons know how
Eager for battle they leapt ashore
At the cove where their name was won;
They stormed the cliffs of Sari Bair
Where the death trap gullies run:
In the lead-rent scrub by Krithia,
On the banks of the Kereves Dere
High on the shell-swept ridges—
Australia has been there!
There is silence on the beaches now,
The battle din has fled
From the gullies, cliffs and ridges,
Where they charged up, fought and beld.
There's a little cove that's sacred—
North of Gaba Tepe Hill—
To the glory of the men who died,
And a name that never will!
And now on the fields of Flanders
'Tis eternised once more
At Polygon Wood and Broodseinde,
At Pozieres, Armentieres , Messines,
Bapaume, and Bullecourt,
By the frozen Somme and Aisne
In the frozen snow-clad trenches—
Australia is there again.
There are great white vessels sailing,
And they hear the joy and pain,
And the glory of Australia's sons,
Who have not bled in vain;
Tho' crippled, helpless, maimed for life,
Tho' more than death their loss,
There is more than life in the glory
Of the burden of their cross.
Greater than jewel-decked Emperor,
Greater than ermined King
Clad in their faded suits of blue,
The men that the white ships bring.
What tho' their crown a bandage,
Stretcher or cot their throne;
Splints or a crutch their sceptre—
The ANZAC name is their own.
AUSTRALIANS
Written after hearing a wealthy merchant speak disparagingly of Australians by E.M.C., a South African.
"We are not cotton spinners all, but some love England and her honour yet"
We stand on the shores of Durban,
And watch the transports go,
To England from Australia,
Hurrying to and fro,
Bearing the men of a nation,
Who are heroes to the core—
To stand or fall by the motherland,
And they're sending thousands more!
We've watched the ships returning,
With the cripple and the maim,
With limbs that trail and falter—
Theirs an immortal name.
The deathless name of "Anzac,"
That thrills from Pole to Pole
The remnants of the heroes
On the long and glorious Roll.
And now in their tens of hundreds
Come the men to fill their ranks,
And what can we do to show them
Our love, our pride, our thanks?
We can't do much (I own it),
But give them a hearty cheer—
While the real elite beat a shocked retreat
Why, they saw one drinking beer.
O God could we show these misers
The path that the Anzacs went
Could they rest in their beds at night-time?
Or live in their damned content?
Could they talk with a sneer of Australians
When one or two get drunk?
I'd rather a drunk Australian
Than a wealthy Durban funk!
He's a better man than you are,
You dear teetotal saint!
You do not drink—you will not fight
What wonderful restraint!
We stand on the shore of Durban
For we're not all made like you.
And the glorious name of "Anzac"
Thrills us thro' and thro'.
But all we can do is cheer them,
And throw them an orange from the shore;
We're not millionaires like some are,
Or perhaps we would try to do more.
They're coming in tens of thousands,
And here's to their honour to-day—
Here's to the Sister Dominion
Who is showing us the way!
THE LANDING
You may talk of Balaclava,
And of Trafalgar Bay;
But what about our gallant Australians
That landed at Suvla Bay?
There were Turks along the hillsides,
Our boats were trying to smash;
Till our Monitors came in action
To make the final dash.
I've been asked to describe a battle,
Which our memory will always keep;
To our boys it was a great victory—
The landing at Gaba Tepe.
On the 25th morning of April,
Sunday, I know was the day;
So now to describe to you plainly,
'Twas our grand fleet led the way.
The order is given "All Ready"
In lifeboats we all disembark
To take part in this awful battle
And play such a wonderful part.
It was only a partial Division;
Some had seen service before
In bringing to final decision
An affray on a Turkish shore.
Of Australians there were not many,
Still other brigades were at hand;
But the gallant old Third boys were chosen
To make the dread trial to land.
They only numbered Four Thousand,
The cream of Australia's flock;
And gallantly they marched into action,
A chip off the old British block.
Next came the first and the second,
The fourth and one heavy gun;
When hard pressed the New Zealanders
Came up to help finish the fun.
With assistance from more of our Navy,
And boat loads of Troops, Khaki Clad;
We all started of gay and hearty,
Not one lad fainthearted, but glad.
Then, to the small boats that were landing,
Came the furious bursting of shells;
There were hundreds of wounded and dying,
And many were drowning as well.
But on, on they came through the waters,
Eager and mad for a fight;
Each lad knew it would be slaughter,
But a contest for a cause and for right.
At last we effected a landing,
But thousands lay wounded and dead;
All that remained were a handful,
To the Germans and Turks up ahead.
But our lads took all before them,
With rifle and bayonet in hand,
They drove every Turk in disorder,
Far back in his own native land.
Positions and trenches seemed hopeless,
For inch after inch they were mined;
Still gallant Australians and English
Left none of their courage behind.
Over mined trenches and dug-outs,
Onward we dashed without fear;
Forcing those Turks to surrender'
And shouting with cheer after cheer.
After shelling and firing a village,
Came an order "Retire into Line"
And the sight our eyes saw at the finish
Until death, will never leave mine.
THE PARTING
Dear little love, don't fret,
'Tis best that I should go;
At the Empire's call to stand or fall,
Against this treacherous foe;
You know I won't forget,
So, dear little one don't fret.
Dear little eyes don't weep,
It fills my soul with pain
To see you cry,
For look the sky
Has a rainbow in the rain,
And death is only sleep,
So dear little eyes don't weep.
Dear little heart don't break,
For should the Fates decree
That I no more
See Australia's shore,
Then truly say to me,
I died for England's sake
So, dear little heart don't break.
A SOLDIER'S FAREWELL
Farewell dear Australia, the land of our birth;
Farewell to our loved ones, our home and our hearth;
No more the sweet wattle, all laden with gold,
For one glimpse of its beauty we'd love to behold.
Now sails the big transport far over the sea,
Three cheers for Australia, the land of the free;
If ever we return to your bright sunny shore,
It will be when our fighting is needed no more.
Farewell dear Australia, it may be for a while;
It may be forever our bright sunny isle;
No matter our, level land, wherever we be,
We'll fight for you, honour and liberty.
Then cheer for us, pray for us, help us to win,
For our home and our country, for kith and for kin;
Good-bye, dear Australia, until we return
To the land of the emu, the wattle and fern.
JIM
We were mates, were Jim and I
Mates right from the start,
From when we went to camp together,
Until he fell, shot through the heart.
We joined the same Battalion,
We trained at Seymour camp;
And many the weary mile we marched,
Through mud and snow and damp.
We had finished up our training'
And were ordered to the front,
To join the boys out there in France,
And help to bear the brunt.
We were sitting in our dug-out,
a- yarning of old times,
When the order came to "stand to,"
We were wanted down the lines.
At last the scrap was over,
Just a scrimmage, that was all;
We never even stopped one,
Though we saw others round us fall.
We were sitting in a dug-out,
Just a hole dug in the ground,
With a roof made out of sandbags,
To keep the bullets off, flying round.
It was one morning in December,
We were fighting in the snow,
And it wasn't the kind of fighting
That you see in the picture show.
We were sitting in a shell-hole
Out there in "No Man's Land,"
Waiting for the signal to go
At 'em man for man
We hopped in his front-line trenches,
And were bombing side by side,
When a sniper's bullet copped him;
That's how my cobber died.
He was just a rough Australian,
One the "Frenchies" call "Tres bon,"
And I miss him something awful'
And am lonely now he's gone.
Although I'm badly wounded,
Perhaps I'll fight no more:
We've done our best together,
Good-bye, Jimmy "Au Revoir."