Because women were considered to be non-combatants in the First World War, no women are recorded on the Northern Tasmanian WWI memorial located in Holy Trinity Anglican Church, Launceston. This does not mean that women did not serve or were not in danger or did not show courage. If we were listing the names of Northern Tasmanians who served in the First World War, then more women would be recorded. In particular, Clare Deacon (1891-1952) is very worthy of being listed on the memorial. Clare Deacon was an army nurse, born on 13th March 1891 at Pipers River, Tasmania, and daughter of William Deacon, farmer, and his wife Ruby Ellen, née Dixon. No details of her early life are known, but she trained at Hobart Hospital, passing her general nursing examination in 1912.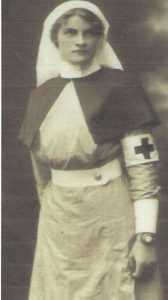 Claire Deacon MM  1891 – 1952
Clare Deacon enlisted in the Australian Imperial Force on 29th November 1914 as a staff nurse in the Army Nursing Service and was posted to the 2nd Australian General Hospital (AGH). She embarked for Egypt on the Kyarra with the first contingent and served at Mena throughout the Gallipoli campaign. Promoted to nursing sister in December 1915, she left for France the following March and remained with the 2nd AGH in 1916. She was transferred to the 3rd Australian Auxiliary Hospital in February 1917, then in June was temporarily attached to the 2nd Australian Casualty Clearing Station at Trois Arbres near Armentières. On the night of 22nd July the station was bombed and Sister Deacon, who was off duty at the time, ran into one of the shattered wards and removed the patients to a place of safety. She was one of four Australian nurses who risked their lives to rescue patients from the burning buildings. For courage, coolness and devotion to duty she, along with Sisters Dorothy Cawood and Alice Ross-King and Staff Nurse Mary Jane Derrer, was awarded the Military Medal, a distinction only awarded for bravery under fire. These were the first Military Medals won by members of the Australian Army Nursing Service.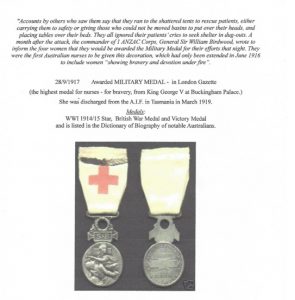 In August, Sister Deacon resumed duty with the 2nd AGH, remaining with this unit until her return to Australia in April 1918. She was discharged from the AIF in Tasmania in March 1919. A contemporary source described her as fresh, girlish-looking and with a charming personality. She married James McGregor, a dentist, on 2nd May 1922 at the Melbourne registry office. There were no children of the marriage. Her husband died in 1941 and Clare Deacon's (Mrs McGregor's) last years were spent at Crows Nest, Sydney, where she died of meningitis on the 7th August 1952. This article was published in Australian Dictionary of Biography, Volume 8, (MUP), 1981.
The following two tabs change content below.
Jon Hosford
Jon Hosford is a retired educator and voluntary website manager for the Holy Trinity, Launceston parish.
Latest posts by Jon Hosford (see all)